Hanuram Foods is into manufacturing Mithai's / Namkeen's / Hot Foods in Vadodara is hiring Production Executive with a Food Technologist background for our manufacturing facility.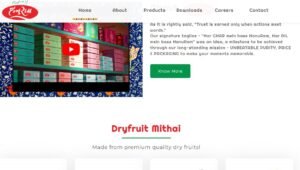 Position – 4 vacancies
Min. 2 years experience in the Dairy / Food Processing Industry
Must have interest into manufacturing of Hot Foods like Indian / South Indian / Chinese / Chaat & Traditional Sweets & Indian Namkeens
Having keen interest in Production department to build & standardize recipe / processes / sop / hygiene systems during work processes
Modify & standardize products and along side undertake new production development R&D experience
Able to manage and work with manpower and supporting them
Quality Analysis of products and measuring time to time
What we offer:-
Salary, Bonus, Food, Perks, Incentive
About the company –
As it is rightly said, "Trust is earned only when actions meet words."
Our signature tagline – "Har GHAR mein base HanuRam, Har DIL mein base HanuRam" was an idea, a milestone to be achieved through our long-standing mission – UNBEATABLE PURITY, PRICE & PACKAGING to make your moments memorable.
Now, after more than 15 Years of relentless efforts – manufacturing and selling over 15 LAKH Kgs of MITHAIS, made from Pure Ghee & Best Quality Dry Fruits, and NAMKEENS, made in premium quality Oils and branded Masalas, we are now THE LARGEST MITHAI SELLING COMPANY OF VADODARA – having earned the BHAROSA QUALITY KA!
Our journey began as a charitable venture – distributing Mithais & Namkeen's through 15 centers (Jain temples and others) in just 3 days prior to Diwali – making everyone's Diwali brighter and happier. This activity was kindly supported through Chimanlal Girdharlal Mulji Doshi Trust (Mahuvawala), Vimal Fire Controls Pvt. Ltd. & The Manas Foundation.
However, having seen the smiles we were spreading with our same mission in those 3 days, we decided to spread this joy through the year. Along with our Pure & Delicious Mithais, we now bring to you extremely pocket-friendly but super high-quality Foods like Punjabi, Chinese, South Indian, Chandni Chowk ke Choley Bhature made in AMUL Ghee, Dilli Chaat, Snacks & lots of Farsan for your loving home!
As we continue to work dedicatedly to break all price barriers whilst delivering top most quality, we urge you to join us in our journey of filling homes with happiness, excitement and flavours of purity!
With this, we welcome you to the HOME OF HANURAM!
If you match with our above criteria, then drop us your CV today!

hanuramfoods@gmail.com