About the job – Factory Manager – FreshToHome Pune Maharashtra
Qualifications: Bachelor's Degree in Manufacturing Engineering/Food Science/Food Technology/Related field
Required Skills: Min-12yrs-of-production- management-in-anagerial-level Proficiency-in-Eng.-and-Hindi Proficiency-in-MS-office/ERPs
Responsibilities:
• Overseeing the day-to-day operations at food processing floors to ensure optimal product quality and maximum profit for company
management.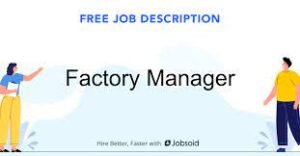 • Direct and supervise the activities of food production staff. Set and implement standards, procedures, and processes for the
manufacture of high quality food products. Be in the shop floor and monitor every aspect of production to ensure compliance with established procedures and standards
• Conduct studies to discover ways to improve the efficiency of production processes Oversee the hiring, orientation and training of technical and non-technical food manufacturing personnel. Assign roles to production staff according to their competence and work demand. Motivate and supervise work crew to ensure daily production targets are achieved. Prepare and present daily and periodic reports to update company management on food production operations.
•Maintain accurate inventory of raw materials and processed food products.
• Ensure products and raw materials are stored properly at optimum conditions. Inspect food production equipment to ensure they are operational and in good working order for food processing
Interested candidates can mail their CVs to –
careers@freshalicious.in
Connect with us on WhatsApp for future Job/intern updates