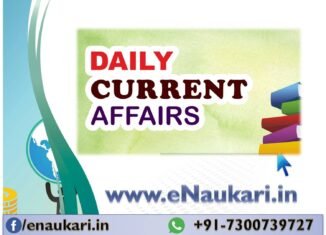 1-'Himgiri', the first of the three Project 17A ships being built at M/s Garden Reach Shipbuilders and Engineers Limited (GRSE), Kolkata was launched.
मेसर्स गार्डेन रिज शिपबिल्डर्स एंड इंजीनियर्स लिमिटेड (जीआरएसई), कोलकाता में बना प्रोजेक्ट 17ए के तीन जहाजों में एक हिमगिरि लॉन्च किया गया।
2-VigyanYatras to promote Scientific Temper among Masses being organised by various institutions ahead of IISF 2020.
भारतीय अंतर्राष्‍ट्रीय विज्ञान उत्‍सव 2020 से पहले आम जनता में वैज्ञानिक प्रवृत्ति के विकास के लिए विभिन्‍न संस्‍थानों ने विज्ञान यात्राएं शुरू कीं।
3-The rate of inflation, based on monthly WPI, stood at (1.55%) (provisional) for the month of November, 2020 (over November, 2019) as compared to 0.58% during the corresponding month of the previous year.
वार्षिक थोक मूल्‍य सूचकांक (डब्‍ल्‍यूपीआई) पर आधारित मुद्रास्‍फीति की वार्षिक दर नवम्‍बर, 2020 के दौरान (नवम्‍बर, 2019 की तुलना में) 1.55 प्रतिशत (अनंतिम) रही, जबकि इससे पिछले साल इसी महीने यह 0.58 प्रतिशत थी।
4-Softening prices of food items like cereals, fruits and milk pulled down retail inflation to 6.93 per cent in November.
अनाज, फल और दूध जैसे खाने-पीने का सामान सस्ता होने से खुदरा मुद्रास्फीति नवंबर महीने में घटकर 6.93 प्रतिशत रह गयी।
5-NITI Aayog released a white paper: Vision 2035: Public Health Surveillance in India.
नीति आयोग ने 'विजन 2035 : भारत में जन स्‍वास्‍थ्‍य निगरानी' नाम से एक श्‍वेत पत्र जारी किया।
6-Eminent aerospace scientist and Padma Vibhushan awardee Roddam Narasimha died. He was 87.
प्रख्यात अंतरिक्ष वैज्ञानिक तथा पद्म विभूषण से सम्मानित रोड्डम नरसिम्हा का निधन हो गया। वह 87 वर्ष के थे।
7-State-owned PowerGrid has entered into a pact with the Sanjay Gandhi Post Graduate Institute of Medical Sciences (SGPGIMS) for setting up tele-ICUs in Uttar Pradesh.
सार्वजनिक क्षेत्र की पावरग्रिड ने उत्तर प्रदेश में टेली-आईसीयू स्थापित करने के लिये संजय गांधी पोस्टग्रेजुएट इंस्टीट्यूट ऑफ मेडिकल साइंसेस (एसजीपीजीआईएमएस) के साथ समझौता किया है।
8-Private sector Kotak Mahindra Bank (KMB) said the RBI has approved the re-appointment of Uday Kotak as managing director of the bank for a further period of three years.
निजी क्षेत्र के कोटक महिंद्रा बैंक ने कहा कि रिजर्व बैंक ने उदय कोटक को फिर से तीन साल के लिये बैंक का प्रबंध निदेशक नियुक्त किये जाने को मंजूरी दे दी है।
9-Pawan Singh, the joint secretary general of the National Rifle Association of India (NRAI), has been re-elected as member of the Judges Committee of the International Shooting Sports Federation (ISSF).
भारतीय राष्ट्रीय राइफल संघ (एनआरएआई) के महासचिव पवन सिंह अंतरराष्ट्रीय निशानेबाजी खेल महासंघ (आईएसएसएफ) के जज समिति के सदस्य के रूप में फिर से चुने गए हैं।
10-Media executive Uday Shankar has taken over as Ficci President for 2020-2021.
मीडिया उद्योग से जुड़े उदय शंकर ने 2020-21 के लिये उद्योग मंडल फिक्की के अध्यक्ष का पदभार संभाल लिया है।
Various 10th Passed Jobs in India