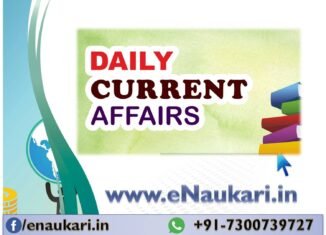 1-Janata Dal (United) supremo Nitish Kumar has been sworn in as the Chief Minister of Bihar for the fourth straight term.
जनता दल (यूनाइटेड) के सुप्रीमो नीतीश कुमार ने लगातार चौथे कार्यकाल के लिए बिहार के मुख्यमंत्री के रूप में शपथ ली है।
2-BJP leaders Tarkishore Prasad and Renu Devi took oath as the Deputy Chief Ministers of Bihar.
भाजपा नेता तारकिशोर प्रसाद और रेणु देवी ने बिहार के उप मुख्यमंत्रियों के रूप में शपथ ली।
3-The Prime Minister, Narendra Modi, unveiled 'Statue of Peace' to mark the 151st Birth Anniversary celebrations of Jainacharya Shree Vijay Vallabh Surishwer Ji Maharaj, via video conferencing.
प्रधानमंत्री नरेन्‍द्र मोदी ने वीडियो कान्‍फ्रेंसिंग के जरिए जैनाचार्य विजय वल्‍लभ सुरिश्‍वर जी महाराज की 151वीं जयंती के उपलक्ष्‍य में शांति की प्रतिमा का अनावरण किया।
4-Civil Aviation Ministry and Directorate General of Civil Aviation have granted conditional permission to the International Crops Research Institute for the deployment of drones for agricultural research activities.
नागरिक उड्डयन मंत्रालय और नागरिक उड्डयन महानिदेशालय ने अंतर्राष्ट्रीय फसल अनुसंधान संस्थान को कृषि शोध गतिविधियों के लिए ड्रोन की तैनाती की सशर्त अनुमति दे दी है।
5-The rate of inflation, based on monthly WPI, stood at 1.48% (provisional) for the month of October, 2020 (over October, 2019), as compared to 0.00 % during the corresponding month of the previous year.
वार्षिक थोक मूल्‍य सूचकांक (डब्‍ल्‍यूपीआई) पर आधारित मुद्रास्‍फीति की वार्षिक दर अक्टूबर, 2020 के दौरान (अक्टूबर, 2019 की तुलना में) 1.48 प्रतिशत (अनंतिम) रही, जबकि इससे पिछले साल इसी महीने यह 0.00 प्रतिशत थी।
6-Lonar lake in Maharashtra and Keetham lake in Uttar Pradesh added to Ramsar sites.
महाराष्‍ट्र की लोनार और उत्‍तर प्रदेश की कीथम झील को रामसर स्‍थल में शामिल किया गया।
7-A Bangladeshi teen Sadat Rahman has been awarded the International Children's Peace Prize for his work to stop cyber bullying of teens.
बांग्लादेश के एक किशोर सादात रहमान को साइबर बाल अपराध को रोकने की दिशा में कार्य करने के लिए अंतर्राष्ट्रीय बाल शांति पुरस्कार से सम्मानित किया गया है।
8-Dustin Johnson won the Masters Golf Tournament title with a score of four-under 68 in the final round.
डस्टिन जॉनसन ने अंतिम दौर में चार अंडर 68 के स्कोर के साथ मास्टर्स गोल्फ टूर्नामेंट का खिताब जीत लिया।
9-Australian swimmer Shayna Jack was found guilty of accidental doping and was given a two-year ban that expires days before the start of the Tokyo Olympics.
ऑस्ट्रेलियाई तैराक शायना जैक को अनजाने में डोपिंग का दोषी करार दिये जाने के बाद दो साल के प्रतिबंध की सजा दी गयी जो तोक्यो ओलंपिक के शुरू होने से पहले खत्म हो जाएगी।
10-Veteran actor and Dadasaheb Phalke award recipient Soumitra Chatterjee passed away at a Kolkata. He was 85.
लोकप्रिय अभिनेता और दादासाहेब फाल्‍के पुरस्‍कार से सम्‍मानित सौमित्र चैटर्जी का कोलकाता में देहांत हो गया। वे 85 वर्ष के थे।
Various 10th Passed Jobs in India