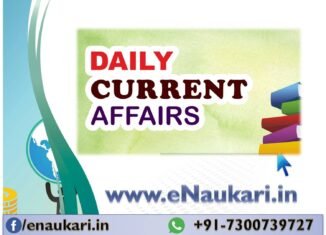 1-Prime Minister Narendra Modi inaugurated Multi-storeyed flats for Members of Parliament on 23rd November 2020 at 11 AM via video conferencing.
प्रधानमंत्री नरेन्द्र मोदी ने 23 नवम्बर, 2020 को सुबह 11 बजे सांसदों के लिए निर्मित बहुमंजिला आवासों का वीडियो कॉन्फ्रेंसिंग के जरिए उद्धाटन किया।
2-The Agricultural and Processed Food Products Export Development Authority (APEDA) has organised Virtual Buyer Seller Meets with potential importing Countries for product promotion of Indian agri products.
कृषि और प्रसंस्कृत खाद्य उत्पाद निर्यात विकास प्राधिकरण (एपीईडीए) ने भारत के कृषि उत्पादों के प्रचार के लिए संभावित आयातक देशों के साथ खरीददारों और विक्रेताओं की वर्चुअल बैठकें आयोजित कीं।
3-The JAT Regiment celebrated its 225 years of distinguished and illustrious service to the nation on 19 & 20 Nov.
जाट रेजिमेंट ने 19 और 20 नवंबर को देश में अपनी 225 वर्षों की असाधारण एवं शानदार सेवाओं का जश्न मनाया।
4-Union Education Minister Ramesh Pokhriyal 'Nishank' was conferred with the Vatayan Lifetime Achievement Award at a virtual ceremony.
केंद्रीय शिक्षा मंत्री रमेश पोखरियाल 'निशंक' को वर्चुअल माध्यम से आयोजित समारोह में वातायन लाइफटाइम अचीवमेंट पुरस्कार से सम्मानित किया गया।
5-Home Minister Amit Shah inaugurated work on second phase of Chennai metro rail and other infrastructure projects in Tamil Nadu.
गृहमंत्री अमित शाह ने तमिलनाडु में चेन्‍नई मेट्रो रेल परियोजना के दूसरे चरण सहित बुनियादी ढांचे की कई अन्‍य परियोजनाओं का उद्घाटन किया।
6-The government has approved 28 Food Processing Projects worth over 320 crore rupees.
सरकार ने 320 करोड़ रुपये से अधिक लागत की 28 खाद्य प्रसंस्करण परियोजनाओं को मंजूरी दी है।
7-Assistant Professor Imran Pancha of SRM University-AP here has been placed among the top two per cent scientists and researchers in the world in biotechnology by the prestigious Stanford University.
प्रतिष्ठित स्टैनफोर्ड विश्वविद्यालय ने एसआरएम विश्वविद्यालय के सहायक प्राध्यापक इमरान पंचा को जैव प्रौद्योगिकी में दुनिया के शीर्ष दो प्रतिशत वैज्ञानिकों और शोधकर्ताओं में शामिल किया है।
8-Former state captain S Suresh and former India woman cricketer Sudha Shah are part of the Tamil Nadu Cricket Association's Cricket Advisory Committee (CAC) formed.
तमिलनाडु क्रिकेट संघ (टीएनसीए) ने क्रिकेट सलाहकार समिति (सीएसी) का गठन किया जिसमें राज्य के पूर्व कप्तान एस सुरेश और भारतीय महिला टीम की पूर्व खिलाड़ी सुधा शाह को शामिल किया गया है।
9-Mortgage lender Indiabulls Housing Finance Board approved the appointment of Dinabandhu Mohapatra as an independent director of the company.
इंडियाबुल्स हाउसिंग फाइनेंस के बोर्ड ने दीनबंधु महापात्र को कंपनी के स्वतंत्र निदेशक के रूप में नियुक्त करने की मंजूरी दी।
10-India's first moss garden has been developed at Khurpatal in Nainital district.
उत्तराखंड में नैनीताल जिले के खुर्पाताल में भारत का पहला 'मॉस गार्डन' विकसित किया गया है।
Various 10th Passed Jobs in India